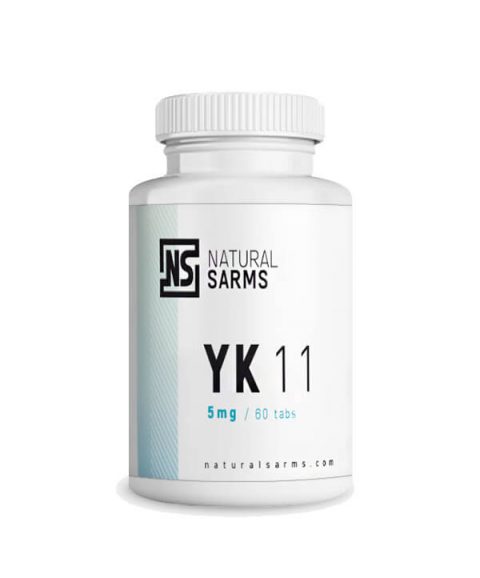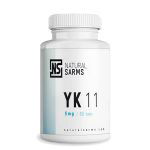 YK 11 - 60 tabs 5mg / tab - Natural Sarms
Known in their entirety as Selective Androgen Receptor Modulators, SARMs are the next generation of performance enhancers. They work in a similar way as anabolic steroids in terms of benefits, but now without any adverse effects on non-target body tissues.
Myostine (YK-11) - This is one of the most popular SARMS on the market. YK 11 provides the fastest increase in muscle mass retention effects even after use. YK-11 is a myostatin blocker, which acts as an anti-catabolic compound.
Description
Laboratory
Shipping EURO-PHARMA Stock
Description
Product and laboratory : YK 11 by Natural Sarms
Effects:

Intensive growth of muscle mass without the phenomenon of recoil;
fat burning;
prevent loss of muscle mass during weight loss and drying;
improvement of individual power and speed parameters;
increase endurance;
biochemical and physiological preventing neuronal damage;
improving blood circulation;
slow down the aging process of cells.

Form: Oral
Concentration: 5 mg / tablet
Presentation: 60 tablets
Dosage:


| Beginner | Intermediate | Advanced | Women |
| --- | --- | --- | --- |
| 5mg per day | 5-10mg per day | 10-15mg per day | 0.5-2md per day |

Protection during treatment : N / A
Post cycle therapy: N / A
Stacking: N / A
Level: Suitable for all users
Laboratory
Natural Sarms

EURO-PHARMA Stock

Delivery cost :
Europe: 25€ = 25$
+ Option 2 "Guarantee": The warranty protects you against breakage, loss or seizure of your package in customs. It represents only 10% of the total of your order. Like 95 % of our customers trusting our insurance, opt for security!
Shipping worldwide, including Europe (France, Italy, Spain, Belgium, Portugal ...)
except in Australia, Canada, Ireland and the United States.
For the United States, see Euro Pharma USA stock.
• Package Shipping: within 5 working days (excluding weekends) after the validation of your payment.
Information :
If the contents of your package are missing or if there is an error with the received product, you must contact our customer service within a maximum period of 10 days after package reception. Beyond this period, we will no longer be able to redeliver or change the erroneous products.
Transit time: 4-10 days in Europe (France, Italy, Germany,…) and 7-12 days in other countries.
• Postal tracking code availability: 2 - 5 days after package shipping.
Temporary Shipping Restrictions:
– Due to customs in some areas, we only send products without their original boxes/packaging.
– Also, the HGH/Peptides will be sent without water, only HGH/Peptides vials are available at the moment.
Information: if you live in a European country, customs sometimes ask you to pay additional European VAT charges on your package, usually less than 30 Euros, your package remains intact.