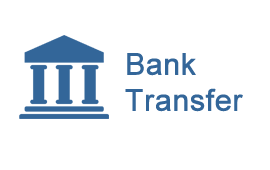 International bank transfer
A bank transfer to our overseas bank account is a safe way to pay for your order.


---

There is no minimum or maximum amount and funds should usually be transferred within 4-6 days.


---

You can make a wire transfer from your bank's website, but it's usually more convenient to go directly to your bank to request the wire transfer.


---

We add + 10% fees, and international bank transfer fees are also your responsibility.
---
How to pay ?
Once your order has been placed on our site, you will receive an email with our bank details and the mandatory information to be filled in so that your payment is validated quickly.


---

Once your payment has been made, send us your transfer confirmation using the form on our payment page:


---

As soon as your payment is credited to our account (the deadline is 4 to 6 days after your transfer), you will automatically receive an e-mail confirming the collection of the payment.


---

Follow in real time on your personal space the information relating to your order: from the preparation to the dispatch of your order, no detail will escape you.