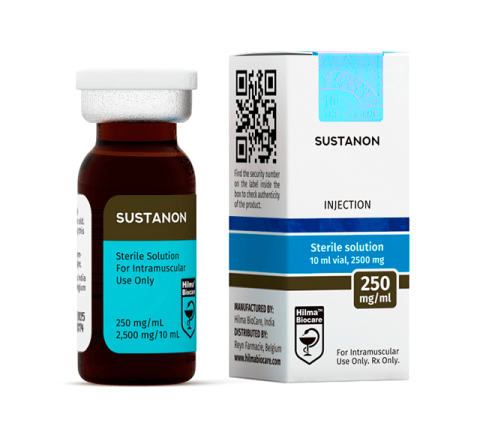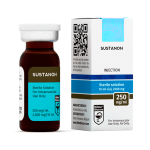 Sustanon - Hilma Biocare - 10ml
55€
A lot of bodybuilders use Sustanon mixed with Deca durabolin or Dianabol to achieve rapid and significant gains in muscle mass and you will also get an increase in your strength.
Description
Reviews (0)
HILMA Stock Shipping
Description
Sustanon - Hilma Biocare - 10ml: 250 mg / ml
Laboratory: Hilma Biocare
Form: Injection
Ingredients: Testosterone Mix 4 esters
Concentration: 250mg / ml
Presentation : 10 ml vial
Dosage: Between 250 and 1000mg per week.
Type: Mass / volume / strength cycle
Protection during the cycle : anti-estrogen: Take 0.5mg of Arimidex in ED (every day) or Take 1mg of Arimidex in EOD (every 2 days).
Pct post cycle therapy: Nolvadex and Clomid during the recovery: 1 of each per day for 20 days.
Level: All Users
The positive points of Sustanon - Hilma Biocare
Safe value
Acts both short term and long term
First results the day after taking
Maintaining high testosterone levels throughout the cycle
Both qualitative and quantitative muscle mass gain
Significant gains in mass and strength
The acquired mass is denser and of better quality
The negatives of Sustanon - Hilma Biocare
In order to make the most of all the beneficial effects of Sustanon, it is advisable to combine it with other injectable steroids such as deca durabolin.
2getmass.to advice
We advise you to combine this product with Deca Durabolin and Dianabol or Anabol for mass gain.
Sustanon and Deca can be mixed in the same syringe to make a single injection.
For a drier mass gain, just add either primobolan or winstrol.
Information on Sustanon 250mg - Hilma Biocare
The very famous Sustanon is a mixture of 4 testosterone esters whose composition is as follows:
30 mg of testosterone propionate
60 mg of testosterone phenylpropionate
60 mg of testosterone isocaproate
100 mg of testosterone decanoate
The Sustanon 250 is the "safe bet" testosterone esters. Indeed, the diversity of esters that compose it allows Sustanon to act in several ways, both in the short term and in the long term. The presence of testosterone propionate makes it possible to obtain results the day after taking, while the other esters ensure that high testosterone levels are maintained over a period of 4 weeks.
This diversified composition also allows Sustanon to provide satisfactory muscle mass gain from a qualitative and quantitative point of view: the gains are not only significant, in mass as in strength, but in addition the acquired mass is more dense. and better than some testosterone esters which create more water retention. This is one of the reasons why Sustanon is so popular in the bodybuilding world.
Many bodybuilders use Sustanon 250 mixed with Deca durabolin or Dianabol to achieve rapid and significant gains in muscle mass. For better muscle gains, Sustanon is used together with Primobolan, winstrol, or Oxandrolone. It is often necessary to use an anti-estrogen such as Nolvadex or Proviron to prevent gynecomastia, as well as Vitagon HCG or Clomid in cases of a cycle exceeding 6 weeks, in order to restart the natural production of testosterone in the testes as soon as possible. 'cycle stop.
HILMA Stock
Delivery cost : 25€ = $25
+ Option 2 "Guarantee": The warranty protects you against breakage, loss or seizure of your package in customs. It represents only 10% of the total of your order. Like 95 % of our customers trusting our insurance, opt for security!

Shipping only in Europe (Spain, France, Italy, Belgium, Portugal …).
• Package Shipping: within 72 hours (excluding weekends) after the validation of your payment.
• Transit time: 5-9 days for Europe.
• Postal tracking code availability: 3 days after package shipment. Tracking for France does not always work well, you may not see updates for 5-7 days.