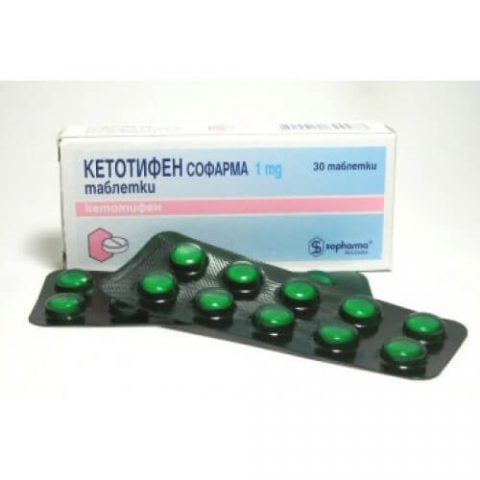 Ketotifen -1mg-30 tablets - Sopharma
13€
Ketotifen is an antihistimine that inhibits the regulation of beta receptors, which are often broken down by fat burners such as Albuterol and Clenbuterol.
It can be used in combination with these other drugs in order to continue to experience their fat burning effects for longer periods of time.
Description
Ketotifen Fumarate 1mg - Sopharma
Product and laboratory: Ketotifen Fumarate by Sopharma
Effects: Anti-estrogen protection
Ingredients: Ketotifen
Form: Injection
Concentration: 1mg / tablet
Presentation: Box of 30cachets


| Beginner | Intermediate | Advanced | Women |
| --- | --- | --- | --- |
| N / A | N / A | N / A | N / A |

Protection during treatment: N / A
Pct Post Cycle Therapy: N / A
Battery: N / A
Level: Suitable for all users
Advantage of using Ketotifen
So what will ketotifen do in terms of our research that no other compound will? Well, when given with a beta 2 adrenergic agent such as clenbuterol or albuterol, it will allow the compound to remain effective for a longer duration, at a lower effective dose. This eliminates the need for dangerously administering very high doses to research subjects which may come with higher risks and unwanted side effects. It also allows us to deliver the beta 2 agonist continuously without a reduction in efficacy. This will lead us to see much faster results in our research than if we were required to stop administration or adapt a 2 week on, 2 week off protocol to our research subjects.
How does Ketotifen work?
Ketotifen has 2 primary effects. First of all, it is an antihistamine h1. There are 2 types of antihistamines, h1 and h2. A primary difference is h1 antihistamines cross the blood brain barrier in research subjects and are known to induce drowsiness as a result of this. Ketotifen, being an h1 antihistamine is known to induce this effect. Second, it is a mast cell stabilizer. Mast cells are cells rich in histamine. They are activated by calcium channel transfer; ketotifen blocks this calcium channel transfer. This is particularly noteworthy that clenbuterol, via cAMP, activates this calcium channel transfer.
The synergy between clenbuterol and ketotifen in research subjects is complicated to say the least. In fact, in all reality, they exhibit antihistamine effects, but while displaying synergy to make each other more effective. Just as ketotifen prevents down regulation of beta 2 receptors, clenbuterol prevents the same effect in histamine receptors! Fortunately for our purposes there is a definitive study which proves that adding ketotifen increases the effectiveness of clenbuterol in research subjects. There is also a study that proves its effects on the prevention of dunt regulation of b2 adrenergic receptors. Sometimes science makes it a little easier. Publications, peer reviewed studies proving the efficacy and synergy of 2 research compounds.