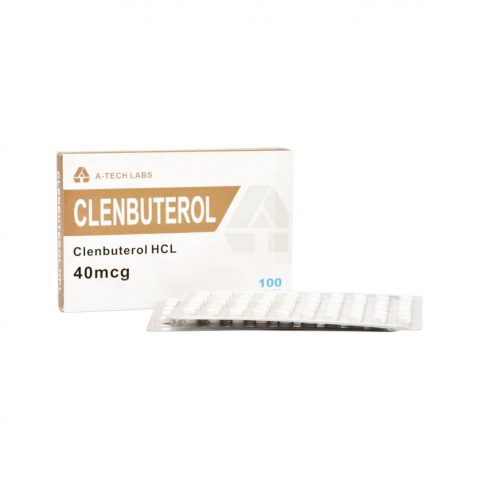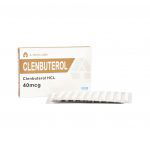 CLENBUTEROL A-Tech Labs - 100 Tabs - 40mcg / Tab
Clenbuterol also exerts an action favoring fat combustion, it allows to burn fat without the need to go on a diet, for this, it slightly increases the temperature of the body. Ideal product for weight loss.
Description
Reviews (1)
ATECH Stock Shipping
Description
CLENBUTEROL A-Tech Labs box of 100 tabs: 40mcg/tab
Laboratory: A-Tech Labs
Form: Oral
Ingredients: Clenbuterol hcl
Concentration: 40 mcg / tab
Presentation : Box of 100 tabs
Dosage: Between 40 mcg and 160 mcg / day
Type: Firmness / Dryness / Weight Loss Stabilization Cycle
Level: All Users
The positives of Clenbuterol
Solid and quality muscle development.
Power increase.
Fat burning.
The negatives of Clenbuterol
Blocks cortisone receptors.
Very rare cases: nervousness, increased heart rate, tremors, insomnia, headaches, excessive sweating, cramps, nausea.
2getmass.to advice
We advise you to respect the doses.
Information about Clenbuterol
Clenbuterol is a remarkable and very interesting preparation. It is not a steroid hormone but a beta-2-sympathicomimetic. Its action, however, is quite comparable to that of steroids. Clenbuterol promotes strong, high-quality muscle development, accompanied by a marked increase in power. The action of Clenbuterol is above all strongly anti-catabolic, thus the proportion in which proteins are eliminated from the muscle cells, is reduced, which causes an increase in the size of these cells. This is why many athletes turn to Clenbuterol, especially at the end of a steroid treatment, in order to attenuate the catabolic phase and maintain maximum strength and muscle mass. Clenbuterol also exerts a action promoting fat burning, it allows you to burn fat without the need to go on a diet, for this, it slightly increases the temperature of the body, thus encouraging the body to use fat as fuel. Clenbuterol has become a product very popular with bodybuilders who use it for competitions. We can achieve a strong elimination of fat by combining Clenbuterol with Cytomel which is a preparation based on L-T3 thyroid hormones. By increasing body temperature, Clenbuterol enhances the anabolic-androgenic action of steroids when taken simultaneously, as protein metabolism is then accelerated. The dosage depends on the person's weight and can be optimized by carrying out temperature control. Athletes typically take 5-7 tablets, or 100-140 mcg per day. Women are mostly satisfied with 80 to 100 mcg per day. It is important that the athlete takes only one tablet on the first day and then increases the dose by one tablet per day, until he has reached the maximum desired dose. Subsequently, different modes of administration are possible, once with an emphasis on fat burning, or else to achieve a balanced relationship between the development of strength, that of muscle mass and the elimination of fat. fats.
As a daily intake of Clenbuterol over fourteen days causes the onset of saturation of the receptors (Clenbuterol blocks the cortisone receptors), scientists have looked into the problem. To avoid this saturation of muscle cell receptors and maintain the anabolic effect of Clenbuterol, the researchers set the duration of intake at fourteen days. Then, we stop taking it for two full days. Then, we take the Clenbuterol again at the same dosage for the next two days. This alternating process is to be followed throughout the treatment. This results in the following pattern: two days of intake, two days of break. This process prevents the saturation of receptors in the muscle cell and maintains the anabolic effect of Clenbuterol. However, it happens that in some athletes, receptor saturation manifests itself as early as the fourteenth day. For greater safety and to avoid premature saturation of the receptors, athletes limit the intake to twelve days and continue with the intake alternately. Thanks to this process, the results obtained by bodybuilders have been extremely satisfactory and they have been able to enjoy the stimulating effect of Clenbuterol on muscle building for a relatively long time. The anabolic effect can thus be maintained over 8-10 weeks. After this time, most athletes show saturation of muscle cell receptors. At this time, it is advisable to stop taking Clenbuterol for 4-6 weeks in order to allow it to then act optimally again.
Clenbuterol is not a hormone-based preparation, it does not cause any of the side effects unique to steroids. Clenbuterol is therefore very popular with women. The side effects that may be caused by taking Clenbuterol can include nervousness, increased heart rate, tremors (slight tremors of the fingertips), headache, excessive sweating, insomnia, and if this happens, cramps, increased blood pressure, and nausea. Interestingly, these side effects are transient in nature and usually go away on their own, despite continued treatment.

A-TECH stock
Delivery cost : 49€ = 49$
+ Option 2 "Guarantee": The warranty protects you against breakage, loss or seizure of your package in customs. It represents only 10% of the total of your order. Like 95 % of our customers trusting our insurance, opt for security!

Worldwide shipping, including Europe (France, Spain, Italy, Belgium, Portugal…), UK, USA, Asia.
• Package Shipping: 3 days (excluding weekends) after the validation of your payment.
• Transit Duration: 10 - 20 days.
• Postal tracking code availability: 3 - 5 days after package shipment (sometimes the first postal status update can take up to a week).