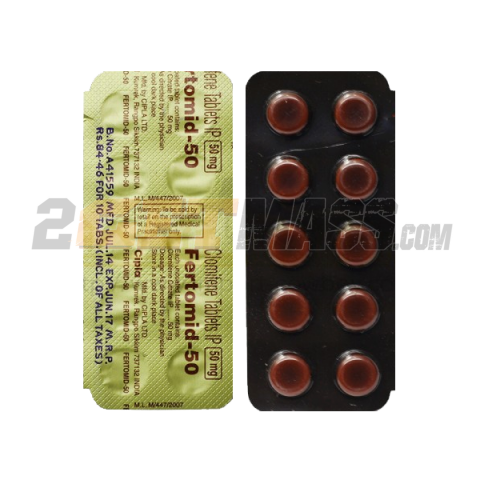 Fertomid Clomiphene Cipla - 10tabs
20€
Fertomid is a selective estrogen receptor modulator (SERM) that works by blocking these receptors in certain parts of the body. Due to the fact that many steroids convert to estrogen in the body, Fertomid has proven to be popular in the bodybuilding world as a way to block this phenomenon. It is used, as a PCT, and during a cycle to prevent gynecomastia.
Description
Laboratory
Reviews (0)
Description
Fertomid Cipla 50 mg 10 tabs
Laboratory : Cipla
Form : oral
Ingredients : Clomiphene citrate
Concentration : 50 mg / tablet
Presentation : Box of 10 tabs
Dosage : Take 50 - 100 mg per day
Type : PCT
Level : All Users
The positive points of Fertomid:
Against gynecomastia

Relaunch of testosterone after a course of steroids
The negative points of Fertomid:
Visual disturbances if used in high doses

Bad mood
Information about Fertomid:
Many anabolic and androgenic steroids are converted into estrogen in the body. The excess estrogen in fact creates unwanted side effects such as gynecomastia, fat buildup, and water retention (hiding the muscles under a layer of water). Taking Fertomid is then necessary. It can also raise testosterone levels which are usually low or completely stopped during a course of steroids. In that case, this compound is used in post-cycle therapy or PCT.
The recommended dosage to prevent estrogen buildup is 50 mg to 100 mg per day. However, Fertomid is most effective at the end of a steroid cycle in helping to bring testosterone levels back to their natural levels. Then take 150 mg for ten days, 100 mg for the next ten days, and 50 mg for the last ten days. Post Cycle Therapy is important because if testosterone levels are not kept at their normal level, bodybuilders can experience what is called a post-steroid crash where muscle mass is quickly lost due to the rate. cortisol.
Laboratory
Cipla
Cipla, headquartered in Mumbai, the Indian capital of Maharashtra, develops, manufactures and markets high quality generic pharmaceutical products. Innovative, but also profitable, Cipla has for 8 decades greatly improved the quality of life of millions of patients around the world. Today, the company is among the Top 3 Generics Industry Leaders in India. It produces a wide range of products intended for the improvement of health.
At Cipla, generics have enabled millions of patients to access a healthier life. Since its creation, Cipla has indeed been committed to providing quality medicines to underprivileged populations in an attractive price.
Cipla is one of the few pharmaceutical companies that listens to patients and doctors. The company actually works with a dozen partners to create innovative drugs and innovative delivery systems.
The Cipla brand is also very appreciated in sports. Many Athletes use their products to prevent or counter the unwanted effects associated with the use of certain types of anabolic steroids.
The Fertomid is for example very effective in restarting the production of natural testosterone, suppressed following a course of anabolics. The Fempro, meanwhile, is a potent aromatase inhibitor. Finally, the Finpecia is used to prevent hair loss.