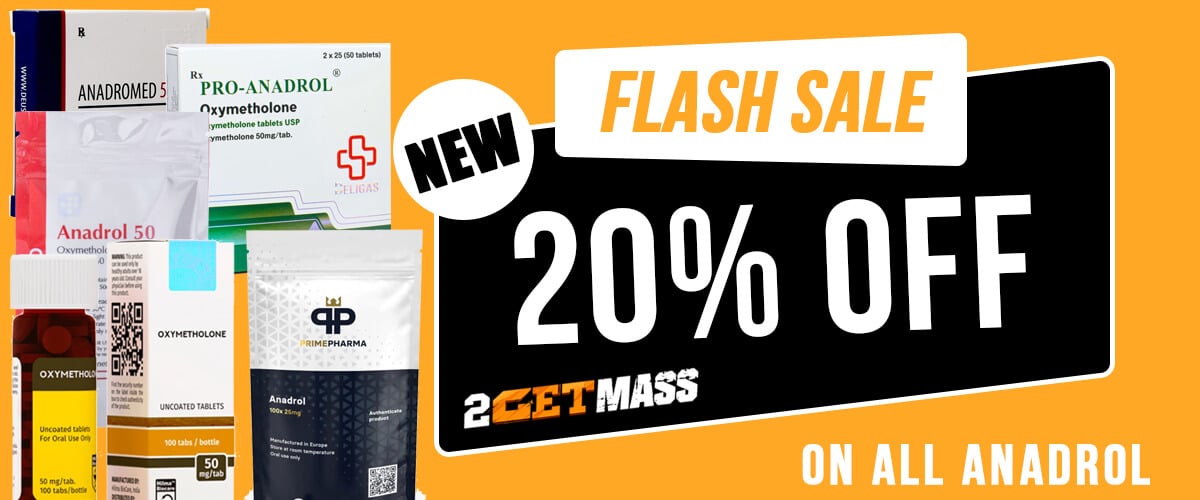 Only, this Monday, October 2 to Tuesday, October 3, 2023, take advantage of a 20% reduction on all Anadrol!
With coupon code:FLASHANAD
*Offer valid for 48 hours only.
---
Buy Androlic Oxymetholone
Find at 2getmass the best Androlic brands.
Androlic or Oxymetholone represents a very powerful anabolic androgenic steroid, allowing performance improvement. It is also recognized and approved by many amateur and professional athletes around the world.
Benefits of oxymetholone:
This anabolic steroid is known to dramatically increase the number of red blood cells in the blood. This allows more oxygen to flow through the body, thus fueling the muscle cells. When these muscle cells take in more oxygen and more nutrients, the muscles will then have enough fuel to work harder. They will thus become more efficient and more powerful.
Androlic is also effective in protecting the joints during heavy loads or intense training.
Androlic users can also expect an increase in their muscular mass. However, this will depend on the followed diet. For people on a strict diet, they can hope to gain ten pounds of muscle in a few weeks. This product allows a fast increase in mass and weight. But this weight gain is accompanied by water retention.
Possible side effects:
Possible side effects of Androlic are Gynecomastia, fluid retention and increased blood pressure. These effects can however be easily avoided by using an aromatase inhibitor like Arimidex.
Like most anabolic steroids, Androlic will suppress the production of natural testosterone. It is therefore necessary to carry out an adequate recovery after the end of the cycle.
Dosage and administration:
The recommended daily dose of Androlic is 0.5 to 0.8 mg per pound of body weight over a 4 to 6 week cycle.
And don't forget, at 2getmass.to, we are not just product sellers! We support each of our clients in the success of their sports project.
A product advisor, a sports professional and a nutrition specialist accompanies you at each stage of your cycle. All you need to do is complete the advice request form.