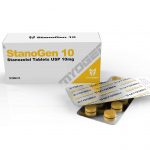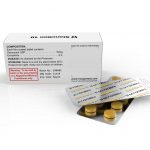 StanoGen 10 - Oral Winstrol 10 mg / tab - Box of 50 tabs - MyoGen
29€
Stanozolol provides quality muscle growth with surprising strength growth, without water retention and with significant fat loss. Its anabolic properties might even be comparable to Dianabol, but Winstrol has the advantage of not having water retention.
Description
Laboratory
Reviews (0)
MYOGEN Stock Shipping
Description
Stanozolol box of 50 tabs: 10mg / tab
Laboratory: Myogen
Shape: Oral
Ingredients: Stanozolol
Concentration: 10mg / tab
Presentation : Box of 50 tabs
Dosage: Between 20 - 80 mg / day
Type: Firmness / Dryness / Weight Loss Stabilization Cycle
Protection during treatment: Take a hepato-protector (Samarin) between 2 and 4 tabs per day
Pct post cycle therapy: Optional relaunch
Level: All Users
The positive points of Stanozolol MyoGen
Quality muscle growth
Surprising strength growth
No water retention
Significant fat loss
Increases the potency of steroids used simultaneously
Our advice 2getmass.to
We advise you to take Samarin 140 to protect your liver.
Do not take this product alone as you will lose muscle mass, always combine it with an anabolic steroids like testosterone or dianabol or anabol.
Do not exceed the recommended doses and the duration of the cycle.
Information about Stanozolol MyoGen
Winstrol is a popular brand name for the anabolic steroid stanozolol. This compound is a derivative of dihydrotestosterone, a molecule used since 1962. Stanozolol provides quality muscle growth with surprising strength growth, without water retention and with significant fat loss. Its anabolic properties might even be comparable to Dianabol, but Winstrol has the advantage of not having water retention. Stanozolol like Dianabol is in an alpha-akylated 17 structural form so that oral administration is as effective as the injectable form. In addition, stanozolol is not able to convert to estrogen (so no water retention), an anti-estrogen is not necessary. The same is true for gynecomastia, even among the most sensitive people, stanozolol does not cause gynecomastia. Winstrol produces quality muscle without the fear of excess water retention under the skin, making it a steroid that is used most often during cutting cycles, when water and fat retention are a major concern. It is also very popular among athletes in the strength / speed combination of sports such as track and field.
Oral use of stanozolol can also have a profound and positive impact on the levels of SHBG (sex hormone-binding globulin). This is because like all anabolic / androgenic steroids the plasma binding proteins such as SHBG act to temporarily limit the steroid hormones from carrying out their activities. Stanozolol in oral form provides a greater unbound percentage of steroid hormones in the body, this enhances an effective mechanism in which stanozolol increases the potency of steroids being used simultaneously.
Winstrol is often combined with other steroids depending on the desired result. Along with Testosterone, Dianabol or Anadrol the Winstrol will balance the cycle, giving a good anabolic effect with low overall estrogenic activity. The result is a considerable gain in new muscle mass, with a minimized level of water and fat retention.
For cutting phases Winstrol can be combined with a flavoring non-androgenic steroid such as Trenbolone or Halotestin. Such combinations contribute to an extremely defined muscle so much sought after among bodybuilders.
For the most sensitive or older people, winstrol can be combined with a Primobolan, Deca-Durabolin or Equipoise. In this case the results will be good with very low side effects.
As with all steroids in the structural alpha-akyl form 17 (eg dianabol), Winstrol on a long cycle and at a very high above normal dosage can cause high stress on the liver. It is strongly recommended to use Legalon 70 or Samarin 140 in order to protect the liver during the cure and to continue this treatment at least 2 weeks after the cure in order to completely clean the liver. It is also advisable to limit the treatment preferably between 6 and 8 weeks.
The usual dosage for men is 20/80 mg per day for tablets. Female athletes can also use stanozolol in doses around 5-10mg per day.
We can note that the detection time of oral Stanozolol is only 3 weeks, compared to 9 weeks of the injectable version.
Laboratory
MyoGen Labs
Recently launched on the
anabolic steroids
, Myogen succeeded in making an impression from its launch. Effectively,
Myogen
is made up of a team of international experts, who want to help you improve your physique every day, with reliable products of the highest quality. To ensure the reliability and effectiveness of its products, Myogen acts in complete transparency. Very close to its users, the laboratory reveals all the stages of the manufacturing and packaging process of its products. Finally, to properly fight against counterfeits,
Myogen
has set up an authentication system, guaranteeing the
quality of its products
. In addition, you can find directly on their site the reports of the quality tests carried out on each product. Today, Myogen represents one of the best quality brands of products. So
Myogen
offers a full line of oral and injectable steroids, protections and supplements for PCT.
---

MYOGEN stock

Delivery cost : 35€ = 41$
+ Option 2 "Guarantee": The warranty protects you against breakage, loss or seizure of your package at customs. It represents only 7% of your order total. Like 95 % of our customers trusting our insurance, go for security!

This warehouse only ships orders to the following countries: Australia, Belgium, Czech Republic, France, Germany, Greece, Italy, Middle East (United Arab Emirates, Saudi Arabia, Kuwait, Oman ...), Netherlands, North Africa , Poland, Portugal, Russia, Spain, Switzerland, United Kingdom, United States, Republic of Korea, Denmark. Canada except in other countries not listed above.
• Shipping of the package: 1 - 2 days after validation of your payment.
• Duration of transit: 7 - 15 days.
• Sending of the postal tracking code: 2 - 5 days after shipment of the package